Bakery style chocolate chip muffins. Conosci gli ultimi trend e trai ispirazione dal mondo beauty su Douglas.it. Spedizione gratis (vedi condizioni) Big, bakery style muffins stuffed with chocolate chips and topped with a sprinkle of sugar. For standard size or mini muffins, see notes at the bottom of the recipe.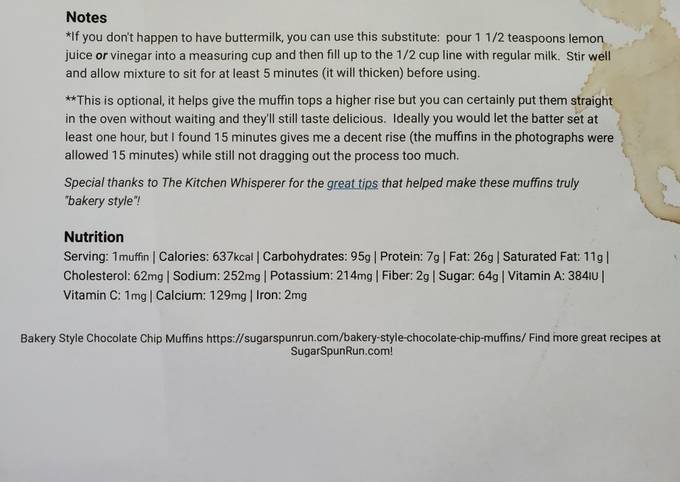 They're made with sour cream and buttermilk for the softest texture. Then they're stuffed with so many chocolate chips. You know those kinds of muffins that are basically just an excuse to eat cake? You can have Bakery style chocolate chip muffins using 12 ingredients and 13 steps. Here is how you cook it.
Ingredients of Bakery style chocolate chip muffins
Prepare 4 of Tblsp unsalted butter melted and cooled at least 5 minutes.
It's 1/4 cup of canola oil (may substitute vegetable oil).
Prepare 1 cup of sugar.
It's 1 of large egg + 1 egg white room temperature preferred.
Prepare 1 1/2 tsp of vanilla extract.
It's 1/2 cup of buttermilk room temperature(2Tbsp powder& 1/2 cup water).
It's 1 3/4 cup of all purpose flour.
Prepare 2 tsp of baking powder.
You need 2 tsp of corn starch.
You need 1/2 tsp of salt.
You need 1 cup of chocolate chips.
Prepare 1/3 cup of additional granulated sugar, coarse sugar for topping.
As usual, this recipe went through many different versions before settling in its final form. I wanted these chocolate chip muffins to be soft (thank you, cornstarch, for finally solving that for me!), fluffy (an extra, well-stirred egg white), and definitely not dry (do not underestimate the moistening power of buttermilk, it helps give these muffins the best texture you could ever ask for). JUMBO Bakery-Style Chocolate Chip Muffins are deliciously moist, packed with chocolate chips, and the perfect way to start the day! There's something about visiting the bakery and picking up a pack of muffins.
Bakery style chocolate chip muffins step by step
Combine butter and canola oil in a large bowl. Stir well..
Stir in sugar..
Add egg, egg white and vanilla extract. Stir very well, until all ingredients are thoroughly combined..
Add buttermilk and stir well..
In a separate bowl, whisk together flour, baking powder, corn starch and salt..
Fold dry ingredients into wet gently, taking care not to over mix. Once about half of the dry ingredients have been incorporated into the better, add in chocolate chips and continue to fold in to better until all ingredients are just combined..
Cover bowl with a dry towel and allow better to sit 15 minutes.
Preheat oven to 425F and line muffin tin with paper liners..
Once oven has preheated, portion bar into 6-cavity large muffin tin (you may also use regular, 12 count muffin tin, you will just need to bake them for less time), filling each tin all the way to the top with batter (without overflowing)..
Sprinkle tops generously with sugar and place muffin tin in preheated oven..
Bake at 425F for 8 minutes and then reduce the oven temperature to 350F (do not open the oven door or remove the muffins, just leave them in and reduce the temperature) and bake another 15 minutes, or until tops are just beginning to turn golden brown (if you are using a 12-count muffin tin rather than jumbo – sized, these will not need to bake as long. Start checking your muffins after 7-8 minutes on 350F)..
Allow to cool, and enjoy..
Notes.
I love having one of those amazing giant muffins with my coffee on the weekends. Beat butter, oil, sugar, and eggs in a medium-sized bowl. Whisk in sour cream, milk, and vanilla. In a larger bowl, mix together the flour, baking powder, baking soda, salt and sugar. Add the butter, eggs, vanilla, and the milk + vinegar mixture.